Hey y'all! My name is Sarah Balkcom and I am from Memphis, TN. I study Biology, Spanish and Chemistry at Asbury University. 
For me, these past 3 weeks have been filled with lots of challenges but also so many great adventures. This past week was probably the most challenging as I started to establish daily routines, which is good but also a reminder that I am thousands of miles apart from family and friends. I am not just visiting, rather I am here to live and learn. 
Speaking of living, my host parents have been amazing and have welcomed me into their family with open arms. Eating meals with them every day has been a treat; they love to tell stories, give their opinions on US politics, and watch local game shows. Cerafin, the dad, and I have bonded over our love for soccer, and he has recruited me to be an avid Sevilla FC fan. We watch the games together and I love it 🙂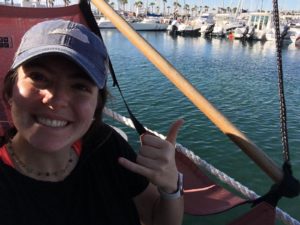 School has been one of the biggest challenges for me. While I understand most everything my professors say in lectures, it is very hard for me to communicate. I often find myself in a conversation where I would like to respond but I don't know the vocabulary like who knows the word for "windmill" in Spanish. Usually I can talk my way around the word, but it is frustrating to do that in every conversation. I am working on extending myself grace as it is still very early in the semester, and my grammar and vocabulary will only improve from here. 
For me one of the coolest parts of being in a new place is exploring the city. One of my favorite places we have explored has been the Plaza de España. Last Sunday a few friends and I rode Sivicis, the local bike service, around town. There was a half marathon happening when the runners came through that afternoon which explained the tons of street performers in the Plaza. They were there for the many tourists and all of the runners and their families. The Plaza is one giant piece of art; even the spaces under the stairs were beautiful. However, the best part was that it felt like I was in the middle of a Star Wars movie! A part of Episode 2 was filmed there, SO COOL. 
I am writing this blog post on the bus coming back from Gibraltar, a small territory of the U.K. on the southern tip of Spain. A few friends and I spent the weekend there on a tiny houseboat and explored the giant rock. We took a cable car to the top and then hiked the trails exploring caves and castles, and saw tons of MONKEYS. We have about two hours left on the bus, so I plan on studying for my art history class as we have our first exam this coming Thursday. 
While life back in the US doesn't stop, and I probably have several emails to answer when I get back to the house. I am so grateful for this opportunity to grow, learn, and explore Spain, and hopefully adopt the "no pasa nada" lifestyle. The days here are long, challenging, and mentally draining but I wouldn't want to be anywhere else. I'm loving this café con leche drinking, siesta taking, and gelato eating city more and more each day. 
Peace out from the 4pm Sevilla-bound bus, seat 37. Time to study my art vocabulary!