Traveling around and outside of Spain has been a dream. In my first few weeks, I have had the privilege of visiting the cities of Ronda and Santiponce in Spain along with weekend trips to Portugal and Morocco.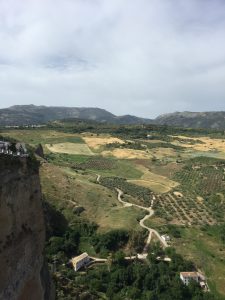 In the second week of our program, we took a school trip to Ronda. This city was a fantastic mix of historical beauty and contemporary Spanish lifestyle which made it really enjoyable to visit as a class. After our tour led by our wonderful professors, José Maria and Ana, we had free time to explore the shops, stop for tapas, and visit the little museum in el Puente Nuevo- the New Bridge.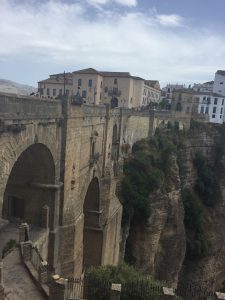 I've never been as interested in history as I am when traveling. Usually my mom knows most of the dates and facts and shares them with me, but I've been really enjoying reading and learning about the different events that have shaped different areas of Spain, even within Andalucía! We were able to see a number of different areas including walk ways with beautiful views of the surrounding areas, a tower with 300 steps, part of the river under the New Bridge, and the bull fighting ring.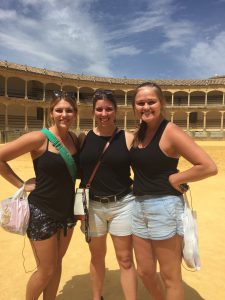 It was a wonderful day trip from Seville and I think it made everyone very excited to travel in and around Spain.
The second weekend of the program, a couple friends and I began our adventure to Lagos, Portugal by bus on a Friday afternoon. Before we returned to Seville on Sunday night, we had explored over 6 beaches, seen the "end of the world," eaten at various authentic restaurants (yum!), danced through the night, and kayaked through caves along the Atlantic Coast! Because food is among my favorite topics, I'll share just a bit about how we ate like queens. Our first night we followed the rest of the Americans to a burger joint Nah Bam Bam that was rightly voted the best burger worldwide. Pineapple, bacon, tomato, lettuce, and onion all towered together into a sandwich that I couldn't fit into my mouth. The second, and most memorable meal we had was in the afternoon after a long day at the beach. While my friends and I have become rather accustom to Spanish meal times at 8 am, 3 pm, and 9:45 pm we couldn't help but revert to a 5 o'clock meal. We asked a local hostel owner where his favorite place to eat was, a recommendation that would be cheap and memorable. Man did he deliver! I hope Heaven has a little bit of Retiro da Trindade's menu. Among the four of us we ordered four plates of food: Portuguese pork chops, Portuguese style steak, fish, and whatever the table behind us was having. Imagine rich sauces, melted cheese, and French fries with all kinds of meats and, of course, a Coca-Cola! Our forks got to our plates before we could snap a few photos, but I think that's a good thing sometimes. You'll have to go and try it for yourself! For our final meal before departing was after our kayak adventure on Sunday afternoon. We ate at a Portuguese take on an Italian joint that was an odd blend of foods I'd never seen before and Homestyle favorites. While my friends shared relatively authentic Italian pizzas, I enjoyed a massive spring chicken salad and suppli- oh, the suppli! Although our cheeks and shoulders were as red as the rooftops in Lagos, it was a successful weekend in Portugal.
[metaslider id=430]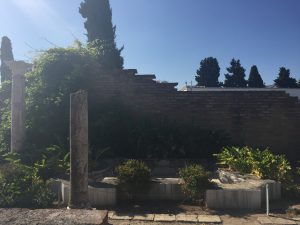 My host parents told my roommate and I that there was one place we had to see to understand the Roman influence in Spain: Italica in Santiponce! It was a great recommendation! When we arrived off the bus, I figured there would be plaques everywhere describing what archeological findings existed in this grand, green field. But there weren't as many as I had previously figured. So, we took a walk to the Tourism Information building in town where they outfitted us with all kinds of literature and a guide book of all the locations of Roman ruins! After returning to see the archeological sites, we went to the Municipal museum that housed a lot of interesting art work and diagrams of the area.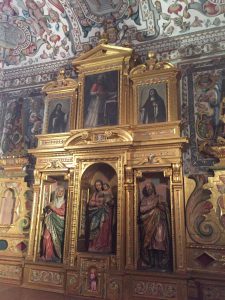 Then to the Church of San Isidoro del Camp. This was a genuine highlight of my weekend because I had just finished reading about the legend in my literature course through TCCSevilla! It was so interesting to read the articles and stories about the churches of the Guzman family and then actually see the burial sites of the people that I read about in class less than a week prior! It really makes history come alive –  and I gained some brownie points with my professor!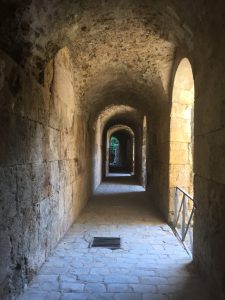 This past weekend I was blessed with the opportunity to travel with six other girls to Morocco. With a tour group, we were able to see Chefchaouen, which is rightly called The Blue City, and Asilah, which was a wonderful place to shop and pass time. After a long day of travel, we stayed in a beautiful hotel and met a lot of new friends through our tour group. It was incredible to explore the city of Chefchaouen with a tour guide who was able to explain to us a lot about the political climate and describe the art in and around the mosques. He also explained to us that their small streets, much like those in Seville, are to help keep the city cool in the hot climate. There are also a few reasons for the Blue colors and different shades. Our guide described to us the events of Ramadan and we learned that each year the inhabitants of Chefchaouen repaint their walls and doors blue. The light colors also act as, what he considers, air conditioning! I enjoyed learning a lot of new facts about the history, culture, and contemporary landscape of a new place that is seemingly detached from my purpose in Spain, but we talked a lot about the Moorish roots of Spain, especially in the South around Córdoba, Granada, and Seville! On Sunday morning we rode camels! That's pretty self-explanatory, and I'm sure many would agree there's really not a better way to finish a trip!
[metaslider id=2020]
There's no way to fully articulate the experience of living in Seville, but I have enjoyed every moment in and around this beautiful new home of mine. Even though it has already been four weeks, I have experienced so much and would love to thank my parents and others who have supported me throughout this experience. I am continually falling more and more in love with Seville and the surrounding areas. Who knows where I'll end up next!