¡Hola a todos!
So I'm here to share a few things about my first week here in Sevilla, Spain. Warning, if you see these three dots, ". . ." it's because I can't think of what word to say in Spanish or English! Don't laugh, but that's one unexpected side effect I've had here. I'll be stumbling along, trying to form a sentence in Spanish. Then, when I inevitably come across a word I don't know in Spanish I'll say, "¿Cómo se dice, um, um…err, uh…?" because I can't think of the word in either language! I'm an English Literature and Spanish major and I like to say that I can never really speak either of the languages that well. I guess the joke's on me now.
In all seriousness, one of my main reasons for doing SIS is my desire to improve my Spanish. We sign a pledge during orientation saying we won't speak any English while in the school building. With our host families, we could try to talk to them in English, but most of them wouldn't understand us. When I first arrived, I met Antonio. He's married to Elena and the two…sorry, English back up, give me a second… So, the two are my host mom and dad. I quickly figured out that Elena's English is limited, and Antonio's English is almost non-existent. Since I'm only semi-proficient at español, the communication challenges were daunting at first. This has pushed me to train my ear to listen to them when they talk and to adjust to Spanish outside of the classroom. Elena and Antonio are always patient, and they're eager to talk with my roommate and me. Let me tell you, Antonio really likes talking about politics. I've gotten to the point where I can mostly understand what he's saying, which I think is pretty cool since politics in general feel like a whole separate language.
While I'm on the subject of my host family, allow me to gush a little. They have four adult sons, and Elena told me and my roommate that for the next month, we'd be like the daughters she never had. How sweet is that?? Antonio is the main cook in the house. Every morning he has breakfast waiting on the table for me and my roommate and he's always offering us snacks, juice, or something else. I know I'm technically an adult at twenty-one, but I have to say that it's pretty heartwarming to take note of the little gestures from these two that kind of make me feel like a little kid again.
Now, onto the subject of classes. School during the summer; not my cup of tea. School during the summer in Spain, well, I could learn to like tea. I'm currently taking Literature and Legends of Sevilla and Modern Spanish Culture. I absolutely love Lit and Legends. Our teacher literally brings the stories to life. We read through the different legends out loud, taking turns to narrate. As we read, our teacher acts out the parts and even pulls us in with him to be characters in the story. If you're generally pretty shy don't worry. This isn't some acting class where everyone is watching you or an awkward English class asking you to recite Shakespeare; it's just pure fun mixed in with learning about the interesting and untold stories of this amazing city. Plus, all of the classes are pretty small, so you get comfortable with your teacher and classmates really quickly. The biggest perk of this class is that we have mini-excursions each day that allow us to explore the city and the sites that are featured in the stories we read. Warning: This class does give a bit of homework that the other classes don't have. We have to read the stories at home and answer questions before class. HOWEVER, I promise you its vale la pena, especially if you have any interest in history or literature.
The Modern class has taken a bit more time to get into. It's a lot of current events and it's more like a self-study course. I think what makes this class stand out to me is my teachers' passion for the subject and his obvious expertise. We have a small essay due on Wednesday and I stayed after class today to look over my rough draft with him. He reviewed everything I'd written, and we got into an interesting discussion on immigration in Spain. Even if a class itself is not my favorite, I can learn to really appreciate it when the teacher takes time to help students understand and synthesize the information like my professor did this afternoon. Honestly, all the professors here are passionate about their subjects and their students. I was a little bit afraid at first that my más o menos español would hinder my learning abilities, but that has never been a problem, even with the classes being purely in Spanish.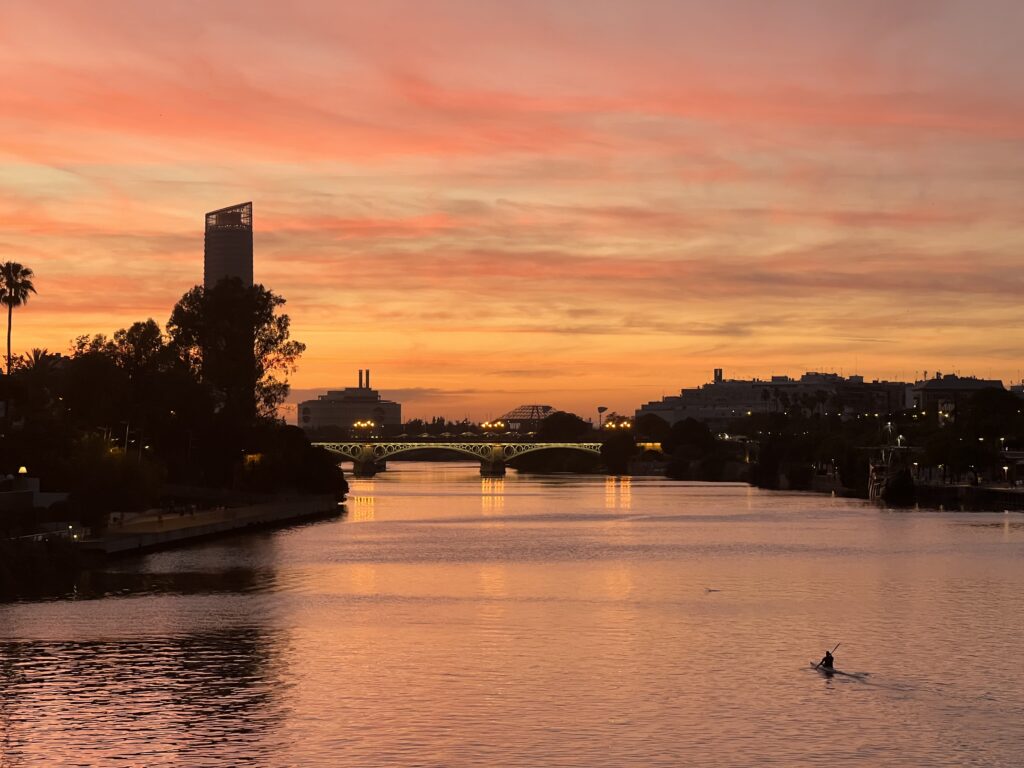 Finally, I just want to talk about the city of Sevilla itself. I love it. I love the streets filled with new shops enclosed in old buildings. I love the street performers as they dance and sing. I love the Guadalquivir River that I get to walk by each morning and the purple jacarandas that look like they're out of a fairytale. This place has a kind of zest that goes beyond the colorful paint and bright orange trees. The best way I can say it is that Sevilla makes you feel awake (despite the jet lag), even while it feels like you're walking in a dream.
Anyway, you'll have to excuse that last bit of cheesiness—it's the English major in me. My last tidbit to share is that bug repellent is a must. The mosquitos here eat us like we eat the helado.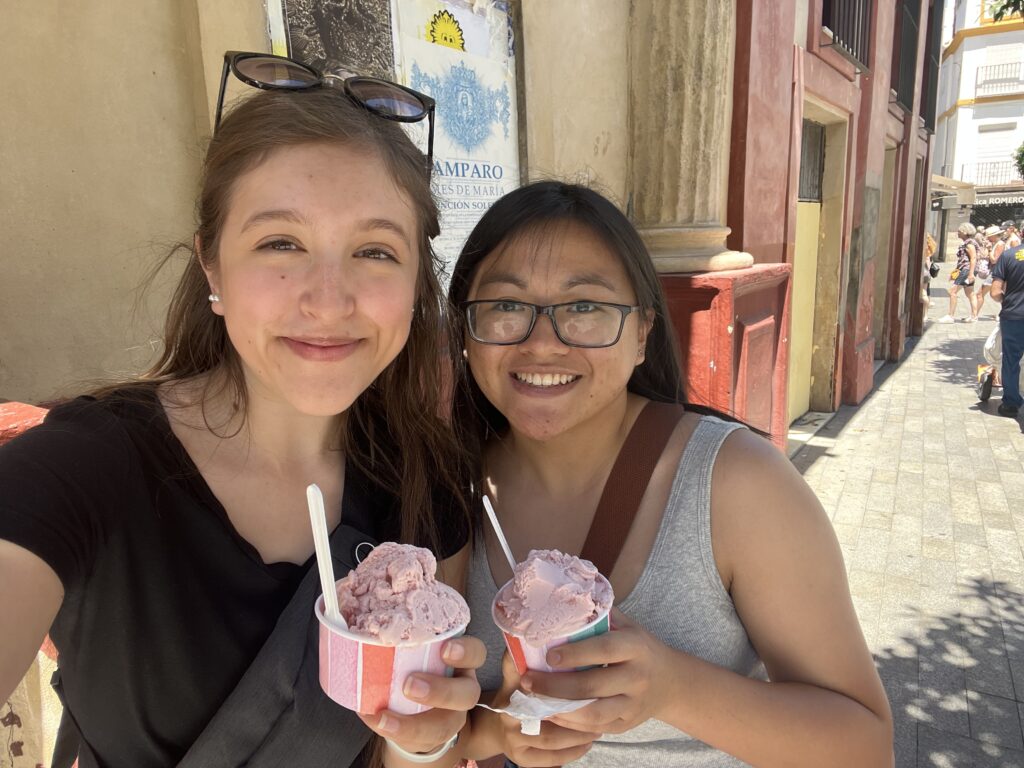 Thanks for listening to these ramblings. I'm off to see what more the city has to offer!
Saludos,
Jenny Schaffer