Toledo. Two days. One city. Many swords.
If I could think of one word to describe my experience in Toledo, it would definitely be: unexpected. Don't get me wrong, I was extremely excited to go on yet another awesome excursion with the school, especially with the knowledge that we were traveling further north. But, after learning that we needed to be at the school at 6:20 am, and we needed to pack warmer clothes because of the colder climate, I wasn't as enthused. But, as soon as I got a small nap in and awoke to the famous windmills of Don Quixote, I knew this wouldn't just be an average trip.
When we arrived in Toledo, we were told by one of our fearless leaders, Carmen, that Toledo is famous for their sword-making. Swords? I was skeptical. But then, Carmen explained that the swords for movies like Lord of the Rings and Braveheart were made in Toledo. Like I said, unexpected. After we all checked in to our hotel, a bunch of us decided to check out said swords (they were impressive) and later met with the group to visit a church containing a painting by El Greco and a monastery.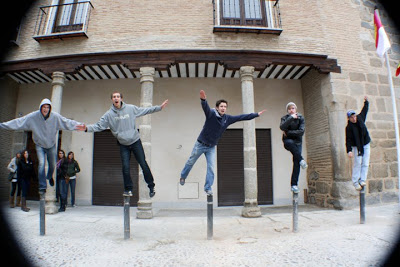 Some of the guys showing off their skills as we anxiously wait to enter La Iglesia de Santo Tomé.
After our visits, we were given free time to explore the city. Most of the monuments had closed by the time we were finished, so it was up to us to be creative. As we walked around the city, we stumbled upon a monastery that sold desserts of mazapán (another one of Toledo's claims to fame). We met a nice nun from India there and began to talk to another customer, Pedro, who we later learned was a Jehovah's Witness. We began talking to both of them, and eventually we ended up having theological discussions. What word would I use to describe this experience? You guessed it…unexpected. Toledo was slowly becoming my favorite place. Where else could I have a conversation about the sanctity of Mary with a nun and Jehovah's Witness…in Spanish?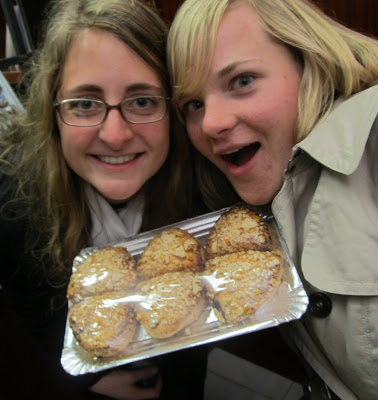 Alissa and Jessica with our delectable, nun-crafted mazapán treats.
The remainder of our evening consisted of: a walk with Pedro, which included more discussion; a stop at the library to read random books on anatomy, landscapes, and world cultures (of course, in Spanish); my first taste of delicious paella; a stop for 1-euro "Cono Kit-Kats" at McDonald's; and to end the night, a few rounds of "Mafia".
The next day, we got up early to grab some breakfast and to head out to see Toledo's cathedral. For the rest of the afternoon, we were given more free time to scope out the city. Some of us ended up walking along the river that surrounds the city, chatting and occasionally quoting Lord of the Rings (can you blame us? We felt like we were in the Shire, and the swords had inspired us.)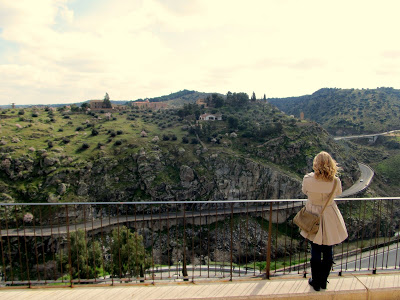 Not only was my time in Toledo filled with fascinating architecture and paintings (as all of Spain is), it was a time for us to continue building relationships with the members of our program. From the games played to pass the time on the bus to the late-night talks in the hotel, Toledo gave us all the opportunity to get to know each other, and to laugh a lot. This week, we are headed to Ronda, and I can't wait to see what the city has in store for us. I'm not sure that anything can beat out my experience in Toledo, but who knows? Maybe my experience in Ronda will be just as unexpected.