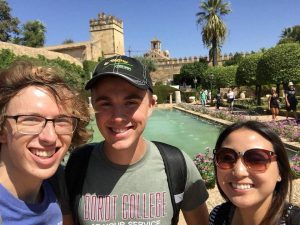 So far during my time here in Spain, I have learned a lot about the value of cultural diversity. The instant change of attitude about schedules, socializing, and style were a bit of a rollercoaster ride at first. Yet, after opening my mind more I began to learn the "why's" behind the culture I am immersed in. Language is one thing, but the rich nonverbal expression of cultural norms and assumptions has really stolen my heart. God works just as well in the culture of a small liberal arts college in Northwest Iowa as he does in a large, historic, Spanish city. We are all one church, just with different styles.
The food has also been amazing. The Mediterranean influence blends well with traditional Spanish dishes. Not sure if my running will prevent me from gaining my third year thirty!
My favorite part of being here in Seville is making native friends. Sevillans are warm, soulful, and delightful people. My church community, intercambio (language partner), and host family have been great. I've enjoyed making plans with no expectations for duration. What I thought could have been a 1 hour chat at a cafe turned into a 3 1/2 hour tapa night. Just being able to share time with other people and truly experience Seville has been my favorite part.
Originally published by Dordt College Global Education Department on September 29, 2017