As we approach the end of Lent and  prepare for Easter during Holy Week, I think it is important for us to reflect on our faith especially during this challenging time in our lives. My name is Fernando Velazquez and as an SIS Alumni of Spring 2018, I was heartbroken when I heard that the Spring 2020 class had to return home because of COVID-19.
I was heartbroken because I want every student who participates in Semester in Spain to experience Sevilla and Spain to the fullest. I want them to travel across Europe, I want them to go every group excursion, I want them to experience Feria, but most of all I want every student to experience Semana Santa in Sevilla.
As I was preparing for my trip  in January of 2018, I was ready to meet the locals, travel Europe, watch soccer games, and have the trip of a lifetime. However, growing in my faith and falling in love with Lent and Holy Week were the things I was not ready for at all. Despite the fact that religion has been a large part of my life, I have consistently struggled with understanding and growing in my faith. However, all of that began to change throughout the semester. I began to notice a slight change after our weekly "Encuentros." I realized that everyone struggles with their faith in one way or another. Once I understood this simple fact, I began to see the changes in my personal faith. My faith and relationship with God are personal to me, and I should not compare it to anyone else's.
Throughout the semester I began to notice small changes in my spiritual life. I started to understand my personal faith a little bit more every day, but I think the biggest change happened during Holy Week. I was planning to travel to Italy that week, but I decided to postpone my trip and stay in Sevilla to experience Semana Santa for myself. Staying in Sevilla during Semana Santa proved to be an amazing experience. The colors, the music, the atmosphere make this a very special week. Sevilla went from its everyday laid back and happy atmosphere where people walk around the city with ease, to a city that has a bit of a chaotic and energetic feeling with visitors and locals alike crowding the already narrow streets. Despite the apparent havoc, there is a very serious and solemn feeling everywhere.
There are multiple processions everyday starting on Palm Sunday and ending on Easter Sunday. Each procession is led by a specific parish. The parishes can be distinguished by the colors of their tunics or hoods along with the crest of their parish, and the two floats they are taking to the cathedral. Each parish has a set day and time when they will begin their trip to the cathedral. Most brotherhoods carry two floats.  One of the floats will typically  depict a scene of Jesus' crucifixion. The base of the float is usually carved out of wood and painted with gold. On top it will have one or more  statues of Jesus' crucifixion, some of which date back to the XVII century.
For me, Semana Santa is a week that symbolizes the journey in discovering my faith. The best way that I can explain it is like this: finding and growing in my faith was very much like waiting for a procession. As I waited for the procession, I would become impatient, but I needed to wait. During this time, I would question if I was in the right place but soon enough I could hear the music and knew the procession would indeed follow.  Despite my feet hurting and the two hour wait, experiencing the procession was worth it.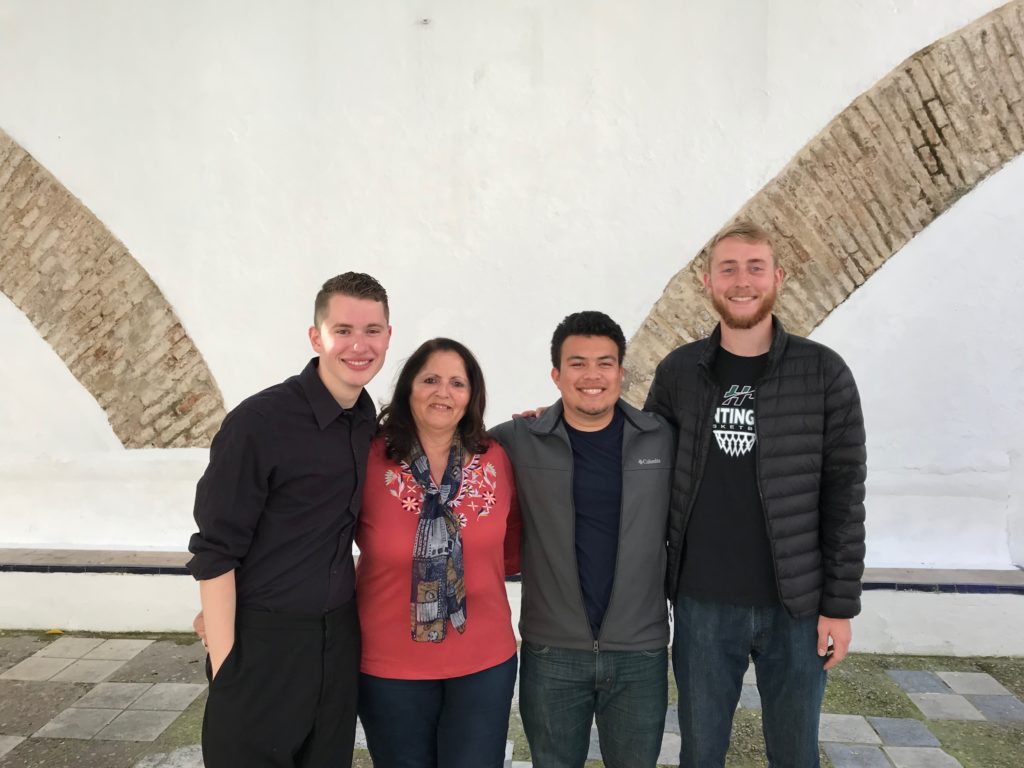 My faith grew in a similar manner, I am thankful for staying in Sevilla during Holy Week. That is when I grew in my faith the most and became closer with God. Two years later, I can confidently say that my faith is still growing. There are challenges that I face every day, but I always turn to my experiences during Holy Week to remember how far I've come. I still have a long way to go in my faith, but I am in a better place than I was before.