Zooming in on my past week, I was able to do, see and try many new things. I think one of my favorite things that will happen each week is a thing called Encuentro. It takes place every Wednesday night for an hour in La Hospital de Carnidad, which is a center for elderly men. They let our school use one of their rooms every Wednesday for a youth group type night. We hang out, worship and hear a message from our Ministry Coordinator Jenna, or sometimes a Spaniard in the community. It is such an uplifting time, and also is a relaxing time in English. (It is a nice break from the Spanish).
On Thursday I had the opportunity to go to Club de Ingles. This is a new program that is starting in a pueblo just outside of Sevilla. A Christian organization is hoping to plant evangelical churches in and around Sevilla. The idea behind this club is to bring together young people from the town that want to practice their English, with Christian students who want to practice their Spanish. Their goal is for relationships to start and grow between the young people of different cultures and faiths.
While I had an amazing week, one of my absolute favorite parts was having the opportunity to attend a local church's youth group. A group of us took the metro to northern Sevilla to a church. We weren't even in the door yet when we received our first besitos (two kisses on the cheek, the way Spaniards greet each other). I walked in the door to the church and my heart stopped. I saw the worship band practicing the last verse of a song, young people talking to each other, and then their heads all turned as we walked in the door. We were clearly new. Two beautiful young woman came over and greeted us. As more people walked in, they would come and introduce themselves. We felt so welcomed. It was such a fun experience to worship in Spanish with young people, hear a message and then spend the night chatting and hanging out with them. Even though there was a lot of asking people to repeat things because of their accent and then the language barrier, it was an amazing night that I hope I can find a community in while I am in Spain.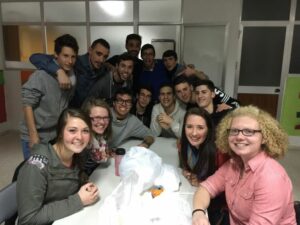 This week was filled with new experiences and new cities. I cannot wait to see what else is ahead, and where God wants me to invest in while I am here. There are so many amazing ministries and places that need God's love. I hope to be a light for Christ whether it's just in my daily life or in a ministry.