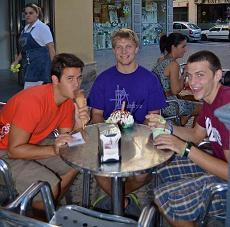 4835 – The number of miles I would be from my hometown in Michigan while in Seville, Spain, where I would be studying for four months. Zero – The number of people I knew going into this crazy adventure. I sat in the airport with most of the other students (and only 2 other guys) from schools all over the country, wondering what was in store. The airport, for me, was a gateway to a new world and a new type of life.
Upon arriving in Seville, I entered a second building, my house. Here, I would sit in my bedroom with a window overlooking the clamorous, narrow, city streets as well as one of many bridges over the Guadalquivir River. "Hijos," (Spanish for "sons") my host mom, Isabel, would call when it was time for lunch. On our plates, we would find an assortment of different yet delicious Spanish food, sometimes seafood with eyeballs still intact. Isabel was born for this job. She loved spoiling her "hijos," and truly enjoyed sharing her culture with us by either giving us new foods such as a chewy and barbeque-like bull tail, or sharing long-winded histories of the next site we hoped to explore.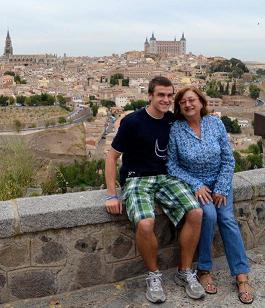 The school is building number three. It was here that I fine-tuned my Spanish-speaking skills with Professor Ana and my peers. Ana taught me proper grammar by using a friendly yet intimidating pound on her desk along with a jocular cringe on her face whenever someone made a repeated mistake. English was not allowed at the school so I had to use what I knew to express myself. It was a frustrating yet extremely effective way to learn. Soon, I was having bilingual dreams and giving directions to tourists in a different language with ease.
Next, there was the Seville Cathedral. The stone-carved building with a giant bell tower and intricate carvings is the iconic building of Seville. The cathedral was just one of many beautiful buildings I saw while in Europe, but no matter how many times I walked past it I could not get over how much time must have went into every single detail. Beautiful images of Biblical heroes and repeating patterns surrounded me, leaving me the difficult decision of where to look first. I went on tours with my equally fascinated classmates and we learned, in Spanish, the history behind this amazing architecture.
The final building is the church I attended. I first went here with "intercambios," a program through our school enabling us to meet native Spaniards interested in learning English. The church represented a place where I could see God's people praising him from a different perspective. With the amount of free time I had in Spain, relaxation being an important value in Spanish culture, I was able to sharpen my relationship with God. I slowed down and talked to him more every day. Today, I am still sure to thank him for an experience in these five buildings and throughout his world that I will never forget.