A blog post about fall break by Grace Dummitt!
It's really hard to believe that we are more than halfway through the semester. As I get older, time seems to fly faster and faster. It seems like yesterday that I was applying for TCC Sevilla and figuring out my visa and packing up all of my things. But here we are!
I just got back from our week-long break that I was looking forward to all semester. I spent the first half of the week in Salamanca, Spain with my friend Kara who is studying there and then I met up with some friends from TCC Sevilla in Rome! After class on Friday, I took a seven-hour bus ride up to Castilla y León where Salamanca is located. Kara and I had been talking about walking the streets of that city ever since we met so going there was truly a dream come true. I couldn't stop smiling when the bus pulled up to the station and she was standing there waiting for me. We hadn't seen each other for five months so it was like one of those slow motion running scenes in the movies when we ran up to hug each other.
From the train station, we headed to my hotel and tried to check in when I realized I hadn't brought my passport! Even though I hadn't left Spain, I still needed it because I had left the province of Sevilla, something I was not thinking about when I was packing. Luckily, the concierges were very forgiving with me and made an exception when Kara explained to them that I wasn't accustomed to that practice while I hurriedly called my mom to send me a picture of my passport. Definitely an interesting start to the week.
Kara and I spent the weekend meeting up with her Spanish friends and walking around Salamanca, which I would describe as historic, enchanting, and much more tranquil than Sevilla. One of my favorite places in the city is a little public garden hidden away near the cathedral. It's called the orchard of Calixto y Melibea and it's named after a legend of two lovers from a famous work of Spanish literature called La Celestina. On Sunday, after we went to Kara's church, we headed over to the cathedral because it is free to go up to the roof on Sundays! It was an indescribable experience. We spent about two hours exploring every corner and climbing mysterious spiral staircases. When we reached the top, we could see far beyond the city into the countryside.
My favorite part of my time in Salamanca though, came on the very last night. Kara has a few friends who are a part of a "tuna" which is a name for a Spanish college musical group that dresses up in traditional university dress and plays serenades. It's a tradition that originated in the 13th century but I got to see it for myself. After they "finished" playing for the tourists, Kara and I went out with them for dinner where they proceeded to continue singing and playing their guitars and mandolins for most of the night, still dressed in their tights and capes. At one point, I even stole a cape from one of the "tunantes" while we were sitting outside!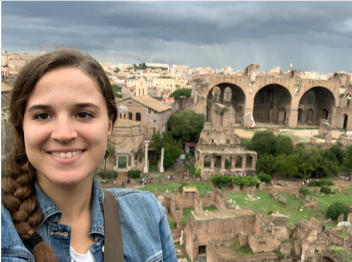 Sadly, I eventually had to say goodbye to Kara and to Salamanca. But the next part of my trip, although different, was incredible as well. I headed back to Sevilla by bus and then caught a flight to Rome where my friends Kailee, Shannon, and Destiny were waiting for me! Now this leg of my journey was slightly more stressful because although they say Spanish and Italian are "so similar," I would beg to differ. I couldn't understand a single word. Luckily, I speak English which happens to be the lingua franca of the world so I was able to get around. After collapsing into my bed in our AirBnb, I had a restful night before our busy day in Rome.
Something I learned quickly about Rome is that you have to get used to using public transport — every day, multiple times a day. However, it's worth it to see the city. After visiting the Trevi fountain, the Pantheon, and the Spanish steps (a little taste of home), we took a train over to Frascati, Italy to take a cooking class. This was definitely my favorite part of Rome. I got to make my own fettuccini pasta and it was delicious!
The next morning, we started off leisurely gathering our belongings and heading over to a café nearby with tragically bad coffee. My friends had already been in Rome for a few days before me so they were off to Málaga while I had planned to stay an extra night alone in Rome. And I'm so glad I did! They went to the airport while I took a bus to the city to see the Colosseum and the Roman Forum… I was basically awestruck the entire day. That night I checked into a hostel for the first time. I was scared of doing it by myself but it turned out really well and I made some new friends along the way.
Well, in the end, my fall break was exhausting but one of the best experiences of my life. I can't wait to go back and visit both Salamanca and Rome. But it was also really good to come back to Sevilla, which feels a little more like home now.