Student Life in Seville
There is a plethora of things to do in Seville throughout your time there. You may join your peers for a Girls' or Guys' Night out throughout the semester. These types of evenings offer a perfect opportunity to make new friends. Most days, it is YOU and your classmates who decide what to do next. Every group has different interests and ideas, so don't be shy about making a suggestion.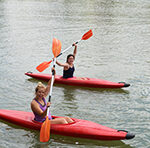 A few other things to do include paddling down the Guadalquivir River, bowling, attending flamenco shows, going out for pizza, watching Spanish movies, playing basketball or fútbol, hosting arts and crafts nights, attending sporting events, staging a cooking demonstration, and many other things.
Seville is famous for its Feria de Abril (April Fair), when the entire city comes to a virtual standstill for a week of music, Flamenco dancing, bullfights, and celebration. The week before the festivities begin, SIS hosts a Fiesta Feria of our own with live music, food, and a Sevillanas dance workshop to prepare you for the customs of the Feria de Abril.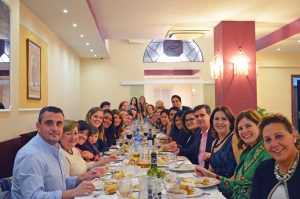 If you're in Seville for the fall semester, you'll get to celebrate Thanksgiving Spanish-style. Thanksgiving isn't typically celebrated in Spain, but SIS puts on a celebration of their own, complete with turkey, mashed potatoes, and stuffing. You will enjoy the opportunity to dress up, exchange gifts, and dance to live music with your professors… how often does that happen at home?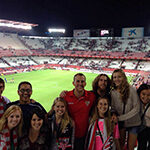 If you would like a truly cultural experience, attend a fútbol match in Spain. Better yet, attend a Betis fútbol match—you'll score major bonus points with Professor Salva! Seville is home to two top-ranked teams: Real Betis Balompié and Sevilla Fútbol Club. You'll quickly discover that Sevillan loyalties are split fifty-fifty over these two teams, and both stadiums are only a short bus ride from the school.
Even closer to the school is the Sevillan Plaza de Toros. Starting in the spring and culminating in the fall, crowds flock to this historic bullring for a lively fight. Even if bullfighting isn't your cup of tea, the costumes, music, and pomp and circumstance reveals a quintessential Spain that is still alive in Seville.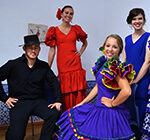 On any given night, you can get together with friends for delicious tapas (appetizers or snacks) at restaurants filled with authentic food and Spanish décor. You can then head to a Flamenco club with live music, bright costumes, and traditional Sevillanas dancing. Your feet will be moving before you know it.
Take a study break to meet friends at a local café for a cup of hot coffee or a cold chocolate shake. You could be content for hours simply playing cards, people watching, or writing in your journal.
Homesick? Step into one of several Starbucks. That will bring you back to the land of familiar things as soon as you get one foot in the door. We can't promise, though, that they'll remember your usual half-caf double short two pump vanilla extra hot no foam with whip and caramel drizzle latte.