Homestays
Say goodbye to dorm room bunks and cafeteria food! One of the best—and most important—aspects of Semester in Spain is the homestay experience. Living with Spanish hosts will give you the opportunity to immerse yourself in Spanish culture, speak Spanish regularly outside of class, eat delicious homemade Spanish food, and build relationships with native Spaniards.
You'll be amazed at how quickly your host family will feel just like that—your family. By the end of the semester, many students find it hard to say goodbye to their Spanish parents, brothers, and sisters.
Homestays are required and students must live in homes arranged by Semester in Spain (don't worry, we make sure they all have internet). We spend a lot of time carefully selecting our hosts in order to give you the best possible living arrangement. Most of the families that house our students are dependent on the income for their livelihood, but it's obvious that they host foreign students because they enjoy doing so.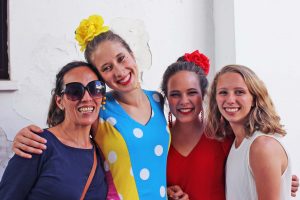 We pair you up with both a roommate and a host as best as we can, taking your housing and application forms into careful consideration. We also honor your request to room with a certain person. Normally, two or three students live in a home, but single accommodations can be requested with an additional cost of $500 per semester.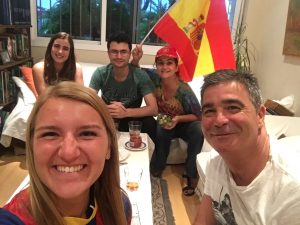 On most days, you will eat three meals with your homestay family. If you're traveling on a school excursion, your host family will give you a bag lunch to bring along. The Spanish cuisine is very Mediterranean. They cook with a lot of olive oil, fresh vegetables, fruits, fish, and legumes. Freshly baked bread is a staple at every meal. Make sure to request any special meals (i.e. vegetarian, vegan, diabetic, gluten-free, etc.), and let us know before you get to Spain if you have any allergies or special needs. Depending on the scope of your diet, there may be an additional fee since specialty foods are hard to come by and quite pricey in Spain.
Besides your meals, your host family will also take care of a weekly load of laundry for you. Talk about luxury!