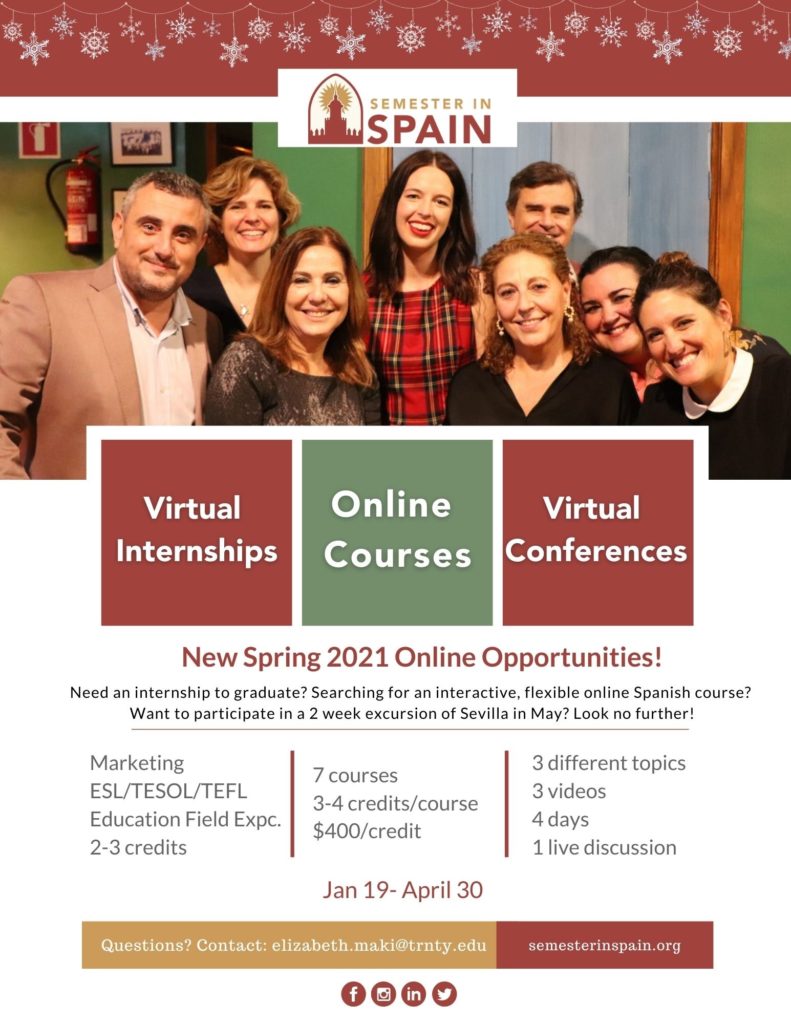 ---
Semester in Spain will be offering 7 online courses this semester made to fit your busy schedule. These courses are a great alternative to a semester in Seville and will help fulfill electives, meet degree requirements, work in place of lost abroad experience, etc. Our professors are excited to meet each one of you and help you grow in your Spanish while teaching you about Spanish culture.
Choose 2-3 credits or 80-120 hours of internship time
Intern with American Land Academy
Learn under the supervision of Salvador Gallego de la Rosa
Cost of an internship is $400/credit
COURSES

306 – ARTE ESPAÑOL
307 – ESPAÑA ACTUAL
312 – LA ESPAÑA DE LAS TRES CULTURAS
351 – GRAMÁTICA AVANZADA Y COMPOSICIÓN
355 – LITERATURA ESPAÑOLA 1
356 – LITERATURA ESPAÑOLA 2
408 – HISTORIA DE ESPAÑA SIGLO XX
CLASS SETUP

Weekly assignments + overarching projects
Recommended live discussion meetings with professor/week 
Courses will be on Brightspace
Classes run from January 19th- April 30th 
Registration accepted through January 14th
Strong internet connection recommended with webcam/microphone capabilities
All class materials will be included
Orientation will be January 15th on Zoom
All student work must be turned in by April 30th
BILLING

Students will be billed directly unless otherwise agreed
Cost of the course is $400/credit
Happy to bill your college student account office if you have been approved to pay through your institution 
Billing will be sent the first week of classes
CREDIT TRANSFER

Students need to speak with their advisor + registrar's office for transfer credit approval from Trinity Christian College
Courses will be 3 or 4 credits dependent upon election of the student
Access syllabi here

HOW TO APPLY

Click on application link
Create an account on Slate
Choose Spring 2021
Fill out Preliminary Info- no recommendations, transcripts, or app fee required!
Press "Finalize and Pay" to submit (no fee charged)
Already a student? Use your Slate account and change term to Spring 2021
Our professors teach your class for 3 days
Videos can be used to share content
Live discussion to follow content
EXPERIMENTA ESPAÑA HOY – Excursion opportunity
Want to spend time in Sevilla after your online course? Take part in a 2 week excursion to explore Andalucía where you will go on field trips to the sites you've learned about in class, live with a host family, and experience the magical warmth of Sevilla this May!
DATES
DESCRIPTION

Live like a Sevilliano for 2 weeks! Stay with a host family and experience Sevilla through the eyes of our Spanish staff! Topics based on Modern Spanish Culture (307) will be discussed in class as a lived experience throughout Andalucía! Each day will have different themes followed by activities and excursions to touch, taste, smell, and feel what was learned in class! Participate in flamenco lessons, tapas, museums and so much more! Experience Sevilla!

COST: $2000

*Will include Room & Board, base excursion costs, and one 300 credit transferable to your home university. Not included: Flight cost and personal spending money
Questions? Contact: elizabeth.maki@trnty.edu