Excursions
Throughout the semester, you'll have the chance to participate in a variety of fun academic activities like serving in the community and city excursion trips. Your classmates and professors will join you on excursions to four different cities throughout Spain: Córdoba, Ronda, Toledo, and Granada.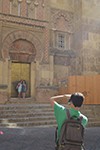 Just to give you a small taste, the stunning Great Mosque of Córdoba—now a Catholic cathedral—is a UNESCO World Heritage Site. Your professors will explain the amazing art and architecture found here, as well as the history of the nearby ancient Roman bridge and other remains. In Ronda, you will walk through a town perched over a steep canyon 320 feet deep, and you will participate in a guided tour of the oldest bullfighting ring in Spain. These are just scratching the surface of what you will see and experience in Spain.
Each of these excursions and a great deal of your daily life will be enhanced by your professors' knowledge of Spanish art, architecture, history, landscape, and culture. There is no better way to understand and fully appreciate the incredible sights in Spain!
Intercambios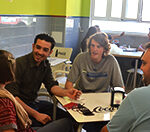 A great way to improve your Spanish speaking skills is to really get to know a Spaniard. We provide an option that is strictly platonic: an intercambio.
An intercambio is a Spanish language partner who's eager to share stories about the Spanish way of life, the city of Seville, and the Spanish culture. Chances are good that he or she will be equally excited to hear about life in the U.S. and to practice speaking English. You'll ask questions in Spanish, they'll give answers in English, they'll ask questions in English, and you'll reply back in Spanish. Your head might be spinning by the end of your "date," but we're sure it'll be a fun learning experience.
You and your intercambio can decide how often you want to meet and where. You can talk over coffee, meet at the catedrál for a personal tour, or attend a fútbol match together. You can get together once a week or call it quits if it's just not working out. Just make sure to break off the relationship gently.
Internships
Intermediate and Advanced students who attend the Spring term may stay for an additional 4.5 weeks to complete an Internship with a Spanish business, educational site, or social services agency. Click here for a description of the SIS Internship In Seville.
Service Learning
One of the best ways to learn the Spanish language and culture is to interact with native Spaniards, and what better way is there to do that than to serve them? Accíon Solidaria, our service-learning course, places advanced students in a working relationship with some of Seville's most overlooked people.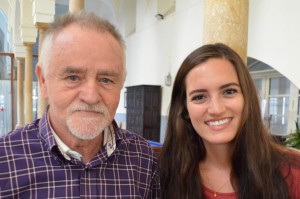 If you take the course, you might find yourself working alongside University of Seville students at Solidarios, a program that reaches out to the homeless. Or, if you have a heart for the elderly, you could spend time at a retirement community with folks who love to play games, teach you new Spanish words, and tell you fascinating stories about their youth. If you like working with children, you may serve at Mision Urbana working with kids after school. Regardless of your placement, you'll end up building meaningful relationships that you will value for many years.
If you are not an advanced student eligible for taking the service-learning course, there are plenty opportunities to serve the people of Seville. Semester in Spain organizes school-wide service projects such as Christmas Caroling throughout the community and Bingo nights with the elderly at the Hospital de la Caridad.
We will not limit the possibilities, of course! Feel free to dedicate your time and talents in other ways that you discover through a local Spanish church, família, or neighborhood nonprofit.
Check out this short video about the Service Learning Experience at Semester in Spain!